Department of Anesthesiology & Pain Medicine: Self-Study Report
External Review 2017- 2021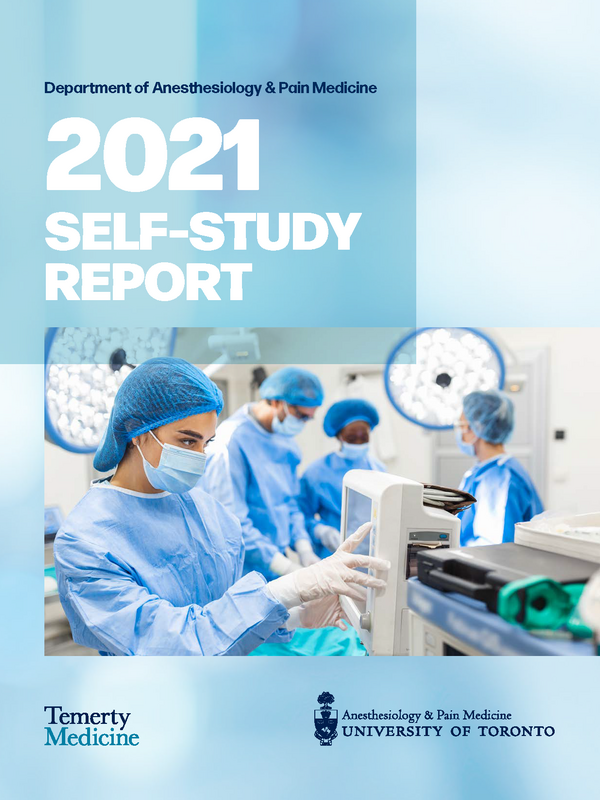 I am thrilled to share the self-study report (2017-2021) that was prepared for the external review. This report was created by our faculty leaders and administrative team. It showcases the incredible work our department has undertaken and we have a tremendous amount to be proud of over the past 5 years.
 
Notable achievements identified by the reviewers and described in the report include the success of the undergraduate and postgraduate training programs. The changes that are underway in the anesthesia residency program in response to the accreditation review are also noteworthy. Despite the incredible strains of the pandemic, research productivity has increased by 20% and grant funding by 30%. We are finding creative and impactful ways to enhance diversity, equity and inclusivity. The report demonstrates the extraordinary talent and commitment of our faculty and trainees.
The past five years have been a period of tremendous renewal within the department's leadership team, as we welcomed three new vice chairs, for education, research and clinical affairs. Also, three new hospital anesthesiologists-in-chief, three site heads, five new program directors, and an associate director were appointed recently. We also created several new faculty-level positions, including the first directorship of Equity, Diversity and Inclusivity and the first directorship for Safety and Quality Improvement. In addition, we strengthened our administrative processes by supporting open searches for all funded positions, creating terms of reference for all committees and by developing clear job descriptions with defined lengths of service for all leadership positions. These activities and our new leaders have helped infuse equity and diversity into all that we do.
The department continues to evolve and several areas require our focused attention. First, the expansion of clinical services has necessitated a rapid increase in our faculty. This expansion is occurring despite a shortage of anesthesiologists in Canada. Thus, there is an immediate need for better anesthesia workforce planning in the Greater Toronto Area, throughout the province of Ontario and in Canada as a whole. Such planning will require a concerted effort by the department, the University, and provincial and national government leaders. We also need to expand the anesthesia care team through the use of technologies and close alignment with allied health professionals. Second, creative strategies are needed to identify additional administrative and financial resources to support our growing department. Third, we must ensure that our education program meets the needs of our diverse learners and the Competence by Design model set out by the Royal College of Physicians and Surgeons of Canada.
We are honoured to share with you the many advances and achievements of our department over the past five years. These are exciting times as the Department of Anesthesiology & Pain Medicine builds upon its strong foundation.
Beverley A. Orser, MD, PhD, FRCPC, FRSC, FCAHS
Professor and Chair, Department of Anesthesiology & Pain Medicine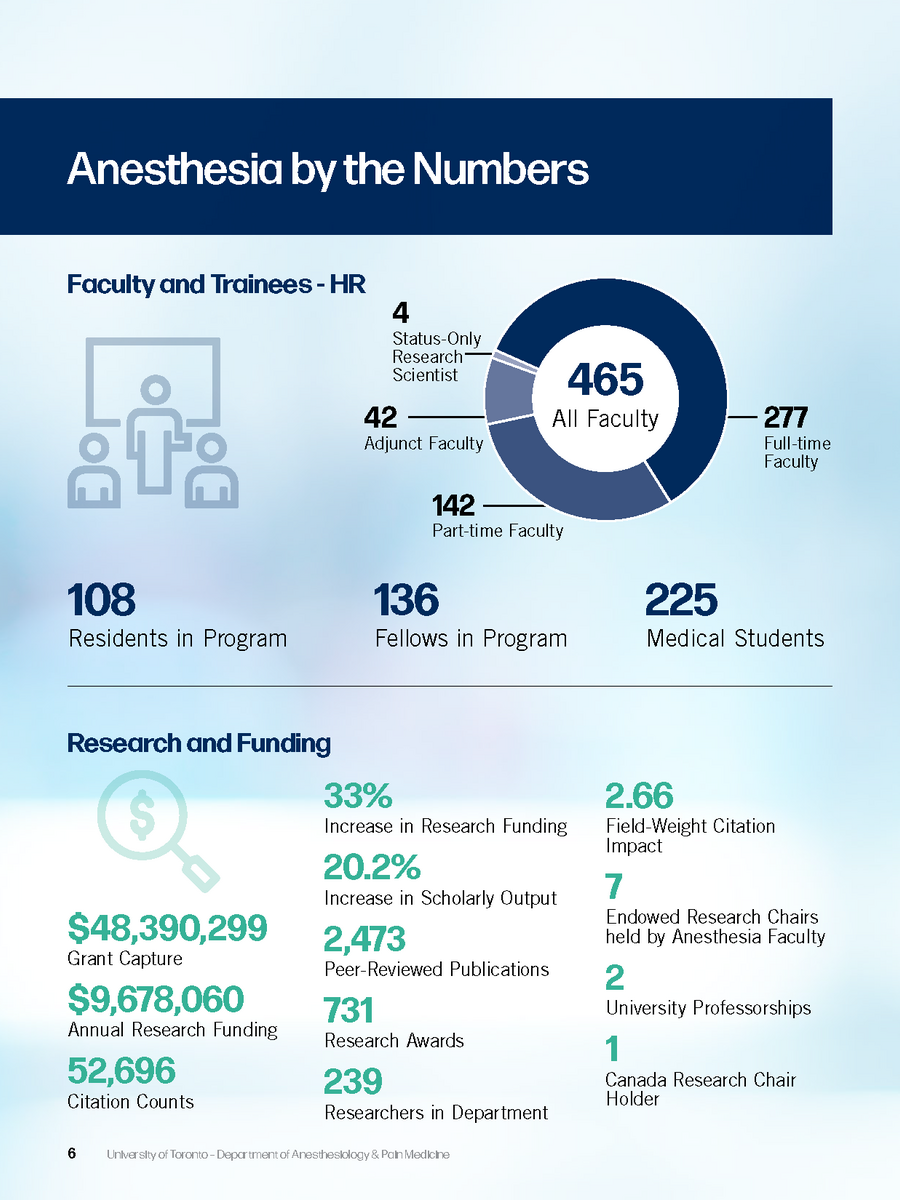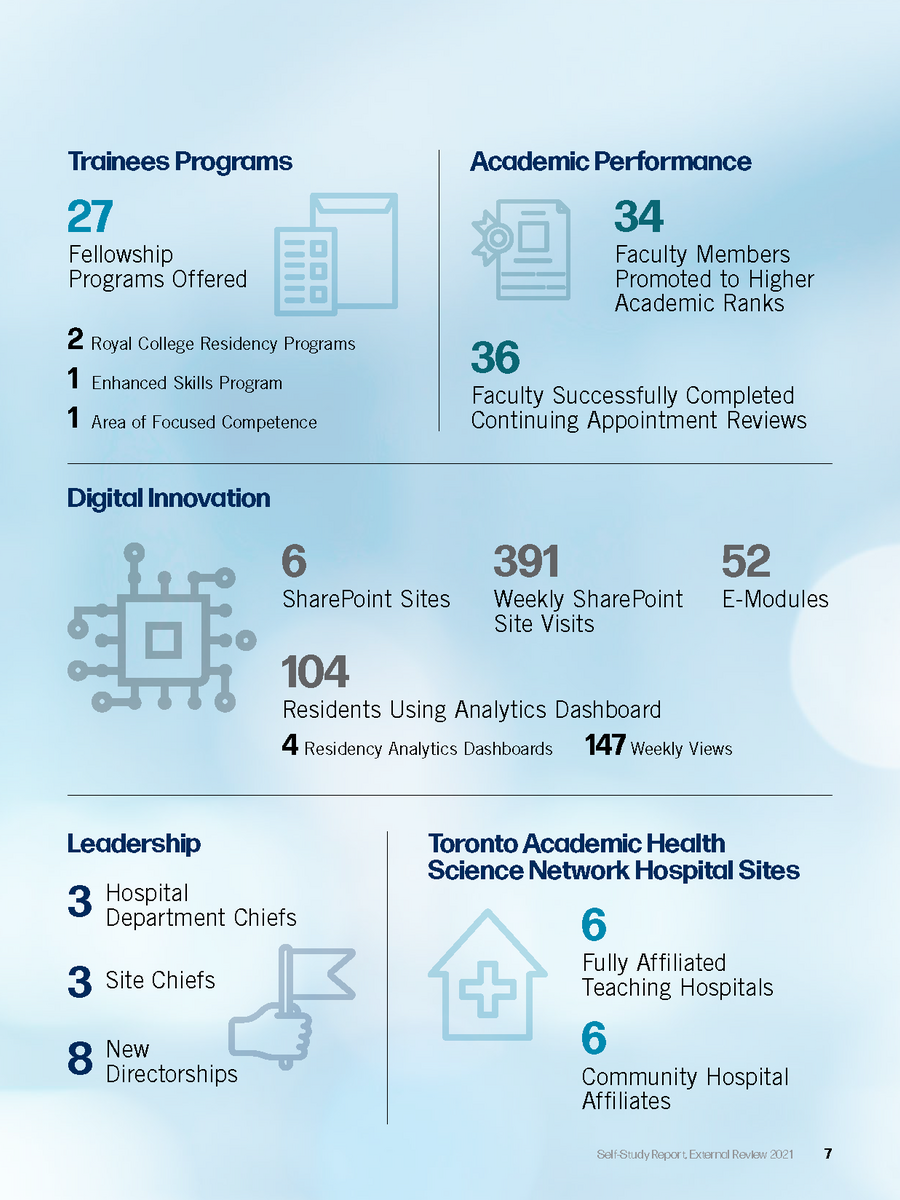 Brief History of the Department and Specialty of Anesthesiology in Canada
The Department of Anesthesiology & Pain Medicine was built on a strong foundation dating back to 1905. A brief summary of the historical milestones of the specialty of anesthesiology is provided below. Most of the information was obtained from A Commemorative History of the Department of Anesthesia University of Toronto. This book was published by the University of Toronto in 2004 and was edited by Dr. Robert J. Byrick.