Fellowship Program
Message from the Program Director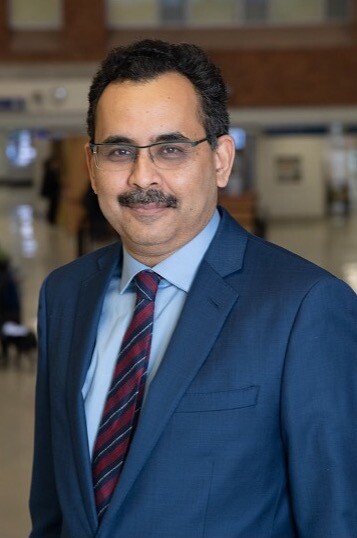 Welcome to the Anesthesia Fellowship Program at the University of Toronto's Department of Anesthesiology & Pain Medicine!
About the Department of Anesthesiology & Pain Medicine
We are one of the largest and most productive anesthesia departments in North America. In conjunction with our six fully affiliated teaching hospitals, we offer a wealth of fellowship training opportunities to recently qualified anesthesiologists.
The department comprises nearly 400 faculty members, over 100 fellows and approximately 100 residents, who are spread over the six fully affiliated teaching hospital sites. Many faculty are world-renowned in their subspecialty field, have ongoing peer-reviewed funding, and high-impact publications. Others are excellent teachers and mentors.
About Dr. Lakshmikumar Venkat Raghavan
Dr. Venkat Raghavan is the program director of the Anesthesia Fellowship Program.
He is an associate professor at the Department of Anesthesiology & Pain Medicine in the University of Toronto's Temerty Faculty of Medicine. He completed his medical school and anesthesia training in India before undergoing further anesthesia training in the United Kingdom. A graduate of the neuroanesthesia fellowship at Toronto Western Hospital, Dr. Venkat Raghavan has worked as a staff anesthesiologist at Toronto Western Hospital since 2005.
Dr. Venkat Raghavan is the Director of the Neuroanesthesia Program at Toronto Western Hospital. He is also the medical director of the neurosurgical intraoperative monitoring department at the University Health Network. An active researcher, he is a clinician-investigator at the Krembil Brain Institute. His clinical and research focus is neuroanesthesia, and to date, he has more than 120 peer-reviewed publications focusing on neuroscience and neuroanesthesia.
Program Eligibility
The fellowship is aimed at anesthesiologists in their early professional careers. To be eligible for a clinical fellowship, candidates must have completed all their anesthesia training (minimum 30 months of clinical anesthesia) and passed all specialty certification exams from their country of origin before beginning the fellowship. Evidence of English proficiency is required if medical training did not occur in English.
Preference will be given to applicants who:
Please note that as anesthesia fellowship training in Canada is not accredited by any certifying body, it:
DOES NOT count towards Royal College of Physicians and Surgeons (RCPS) training

IS NOT accredited by the Accreditation Council for Graduate Medical Education (ACGME), which is American based

DOES NOT LEAD to specialty certification via the Royal College

DOES NOT lead to independent licensure in any province in Canada
Please note that if you have also applied to the U.S match through the National Residency Matching Program (NRMP), be aware that the University of Toronto is a participating institution and adheres to the match policy. The policy states that "Applicants who have matched to a program or have accepted a position during the Supplemental Offer and Acceptance Program (SOAP), shall not apply for, discuss, interview for, or accept a concurrent year position in another program prior to the NRMP granting the requested waiver."
More information is accessible in the Specialty Matching Services Match Participation Agreement.
Contact Information:
Pogram Director
Dr. Lakshmikumar Venkat Raghavan
E: lashmi.venkatraghavan@uhn.ca
T: (416) 603-5118
Fellowship Program Administrator
E: fellowship.anesthesia@utoronto.ca
For enquiries regarding specific fellowship programs please contact the individual program directors.