About Us
The anesthesia residency program at the University of Toronto offers world-class training in a supportive and rewarding learning environment.
We are one of the largest departments of anesthesia in North America, a fact that affords our program unparalleled opportunities and resources. We also benefit from a team of internationally renowned clinician and researcher leads at the forefront of our profession.  For our residents, this translates into exceptional learning opportunities and clinical training with near unbounded possibilities in academic achievement.
Background
In November 2020, during the accreditation review by the Royal College of Physicians and Surgeons of Canada, the Department of Anesthesiology & Pain Medicine was notified of their intent to withdraw accreditation of our anesthesia residency program.
What Does it Mean?
The reviewers identified the program's many strengths, including the excellent work of the program director, educational leaders, curriculum and the many innovations.
However, there were 18 areas for improvement (AFIs) identified. These AFIs were grouped into four main themes. These were:
The supervision of trainees in the operating room
Teacher feedback
The timely assessment of residents
Civility in the learning environment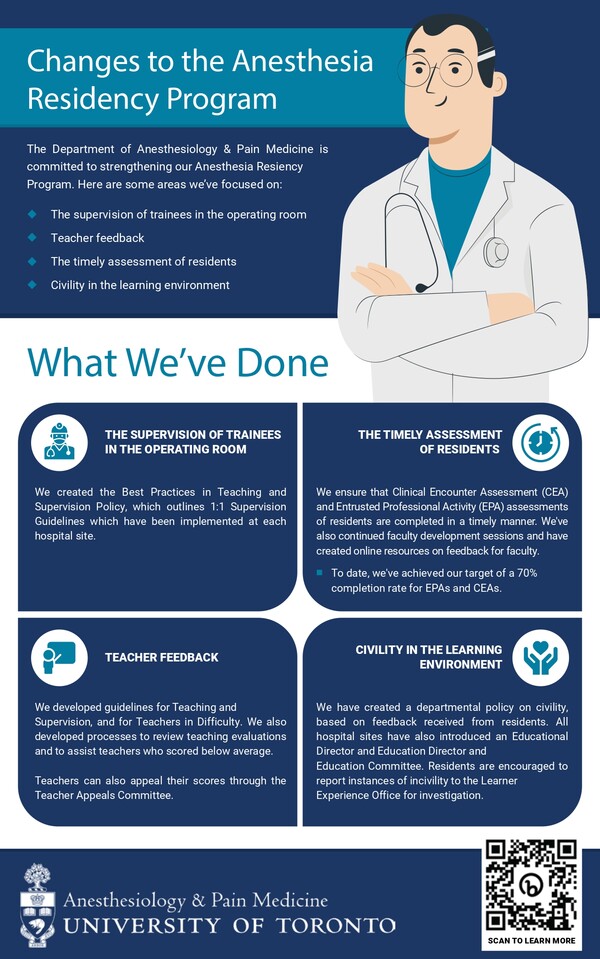 Download our one pager summarizes the changes to the residency proram
We've summarized the main changes to the program in this downloadable and printable info-graphic.
The Way Forward
For the last three years, our team has been working to address these issues identified during the 2020 external review.
Led by the Anesthesia Residency Education Steering Sub-Committee and with the support of our faculty and residents, we've taken tremendous steps towards improving our anesthesia residency program.
There is still work to be done, but we are confident in our ability to work together, reach our goals and ensure the best environment for department.
Additional AFIs
Ensuring

residents have opportunities to apply for community electives across Canada starting in PGY2.

Ensuring residents can attend Academic Half Days in a regular manner.

A portal was developed to facilitate the completion of a mandatory scholarly project for graduation from the residency program.

Residents involved in research have dedicated research blocks.

Appointed Directors of Faculty Development and Professionalism and a Director of Equity, Diversity and Inclusion.

Ensured that Department Chief Residents are selected solely by the resident cohorts.
Resources
Frequently Asked Questions