Jason T. Maynes
Anesthesia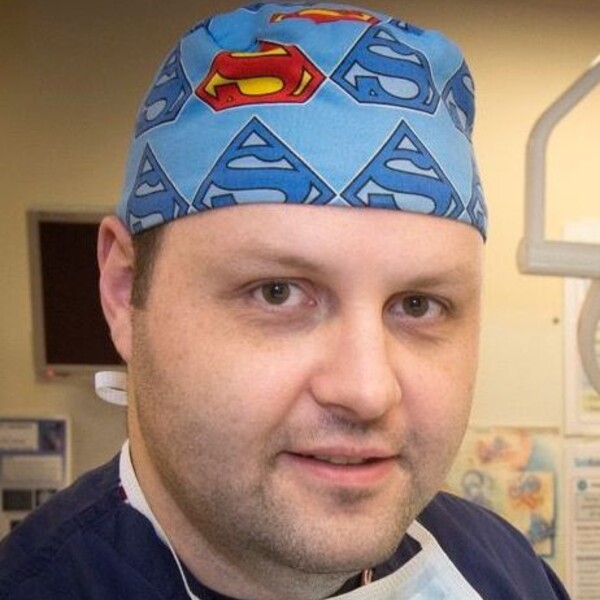 Location
The Hospital for Sick Children
Address
555 University Avenue, Toronto, Ontario Canada M5G 1X8
Research Interests
cardiac and cerebral physiology, pharmacology
Clinical Interests
pediatric anesthesia
Accepting
contact faculty member for more information
Research Synopsis
The research in Dr. Maynes's lab focuses on four main areas that attempt to combine my clinical training in pediatrics and anesthesia with my doctorate training in biophysics: (1) molecular cardiology and cardiomyocyte function, (2) protein biophysics, structure and drug design, (3) high-content imaging, image analysis and the use of stem-cell derived tissue for disease models and (4) mechanisms of anesthetic action.
They study how proteins involved in mechanical force transduction in the heart are altered during heart failure, and how these proteins can be utilized as therapeutic targets. His research group has shown how the protein Integrin-linked kinase (ILK) interacts with key calcium regulatory proteins and is involved in heart regeneration and repair. In collaboration, they developed cyclic peptide therapeutics that activate ILK, and illustrated what that these compounds can reduce/eliminate the adverse effects from cardiotoxic medications (primarily cancer chemotherapeutics) (Nat. Comm 2014). In concert with the development of new cardiac therapies, they have designed new methods for the pre-clinical testing of pharmaceuticals for cardiac activity (either for benefit, or for toxicity testing). Their methods, based on Chaos Analysis of stem-cell derived cardiomyocytes, is being investigated for integration into the FDA drug approval process.
Dr. Maynes has delineated the pathologic molecular mechanisms that cause pulmonary venous stenosis (PVS) after left atrial surgery. Using patient samples and cell-based assays, they discovered the first pharmacologic therapy for PVS, now in early stage multi-center clinical trials (JCTVS 2013, JCTVS 2014).
Other projects in the lab include illustrating how anesthetic drugs induce protein misfolding and affect the progression of neurodegenerative diseases, investigating how anesthetic drug change epigenetic profiles and alter cancer growth and spread, and the structural biology involved in mitochondrial fission/fusion. 
Recent Publications
Sittampalam, S. et al. Three-Dimensional Cell Culture Assays: Are They More Predictive of In Vivo Efficacy than 2D Monolayer Cell-Based Assays? Assay Drug Dev Technol 13, 254–261 (2015)
Zhu, J. et al. Losartan ameliorates 'upstream' pulmonary vein vasculopathy in a piglet model of pulmonary vein stenosis. J. Thorac. Cardiovasc. Surg. (2014). doi:10.1016/j.jtcvs.2014.07.050
Traister, A. et al. Integrin-linked kinase mediates force transduction in cardiomyocytes by modulating SERCA2a/PLN function. Nat Commun 5, 4533 (2014).
Kato, H. et al. Pulmonary vein stenosis and the pathophysiology of 'upstream' pulmonary veins. J. Thorac. Cardiovasc. Surg. (2013). doi:10.1016/j.jtcvs.2013.08.046
Maynes, J. T. et al. Crystal structures of protein phosphatase-1 bound to motuporin and dihydromicrocystin-LA: elucidation of the mechanism of enzyme inhibition by cyanobacterial toxins. J Mol Biol 356, 111–120 (2006).
Appointments
Director of Research, Anesthesia and Pain Medicine
Scientist, Division of Molecular Structure and Function, SickKids Research Institute
Adjunct Professor, Department of Biochemistry, University of Toronto
Scientific Board, SPARC BioCentre for Drug Discovery
Honours and Awards
Name: Top Young Investigator
Description:
Society for Pediatric Anesthesia

Name: Robert E. Creighton Award for Teaching
Description:
University of Toronto

Name: Department of Surgery Innovation Award
Description:
Univeristy of Toronto

Name: Foundation for Anesthesia Education and Research Fellowship
Description:
Courses
Course Number: Pharmacology and Pharmacogenetics
Course Name: Resident, Fellow
Course Number: Biochemistry in Medicine
Course Name: Course Coordinator, Biochemistry Graduate Course
Course Number: Clinical Biophysics
Course Name: STF 111, medical students
Course Number: Clinical Metabolism
Course Name: MNU 111, medical students