Dr. Alan W. Conn Graduate Award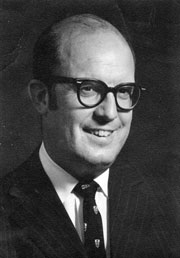 Dr. Alan Conn Dr. Alan Conn was the third Chief of Anesthesia at Toronto's Hospital for Sick Children (1960-1971) and was cross-appointed to the Department of Pharmacology in 1968. He made major contributions to management of children with hypothermia and fresh-water drowning.
In 1961, Alan established that a Fellowship in Anesthesia was essential for all future staff appointments. An accelerated recruitment of capable, highly qualified individuals followed.
Alan became the first Director of Pediatric Intensive Care Unit in 1971. With Dr. D.A. Pelton, he established and operated the first Inhalation Therapy training school in Ontario. Alan also founded the Pediatric Anesthesia Conferences which have run biannually since 1971.
This award is granted to a postgraduate trainee registered in a Masters or Ph.D. degree program.
Winners:
2005  Anton Marinov