Vision & Strategic Priorities
Department of Anesthesiology & Pain Medicine Strategic Plan 2019-2024: Collaborating for Exceptional Care, Discovery and Education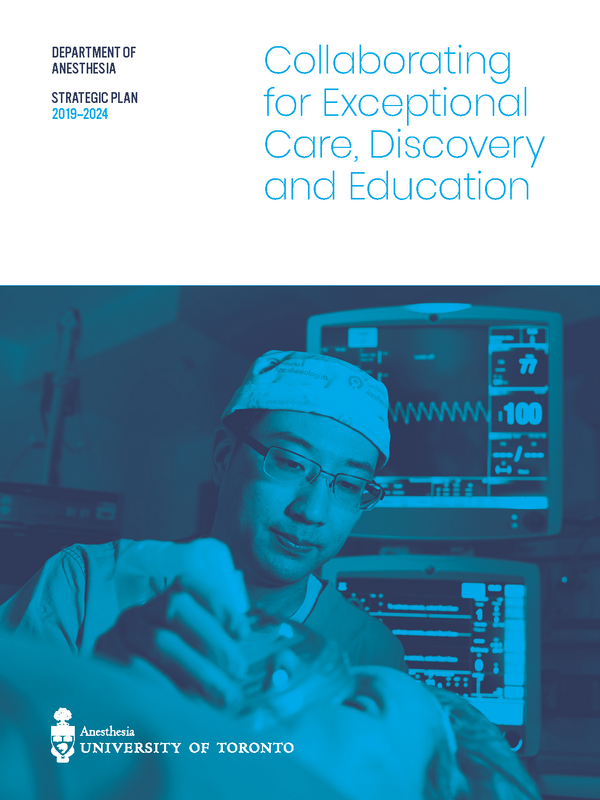 The Department of Anesthesia at the University of Toronto takes great pride in its strong clinical and academic foundations. Our faculty members are recognized as world leaders in many clinical programs and are renowned for discoveries in both preclinical and clinical sciences. We support exceptional educators who are developing best-in-class programs. We host three highly sought-after residency training programs (anesthesia, pain medicine and family practice anesthesia), and an internationally renowned fellowship training program. This is an exciting time as our department builds on these strong foundations.
The goal of this 5-year Strategic Plan is to help us reach our full potential as the world leader in anesthesiology and pain medicine. The plan is based on the responses to two key questions: What are our winning aspirations for success? How do we achieve these aspirations? Over a five-month period – from October 2018 to February 2019 – more than 75 members of our faculty came together to construct a strategy. It was abundantly clear from these discussions that our vision is to provide outstanding clinical care for every patient across the city and the province and to constantly improve care through relentless innovation. Also, we will reimagine and advance medical education to better support all learners, including patients, students, residents, fellows and faculty.
To achieve this vision, we must capitalize on our unique strengths and increase our leadership roles at hospital sites, throughout the university and across the province. We must be recognized for the work that is already under way and leverage our capabilities to increase efficiencies across hospital sites. We need to maximize resources to support our aspirations through fundraising and the further development of physician-led anesthesia care teams.
As clinical services expand, our department is poised for substantial growth. We must therefore implement best practices to ensure that we recruit high-potential faculty who will become the next generation of leaders. We must also support the well-being of trainees and faculty by promoting a sense of control or "voice" and a positive work environment that supports diversity and inclusion. Most importantly, we must rigorously measure and analyze our progress and redirect efforts when necessary.
Changes have already started to better reflect the work we are doing. We have embarked on the process of renaming the department to the Department of Anesthesiology and Pain Medicine, to showcase our leadership in the sciences related to these fields. We are establishing working groups to address the growing need for anesthesia care for non-operating room procedures, such as minimally invasive surgery and code stroke. As well, we are developing administrative tools to help streamline the recruitment of faculty at hospital sites.
Let's work together to become the world leader in anesthesiology and pain medicine by addressing the five action priorities in the report.
Best wishes,
Beverley A. Orser, MD, PhD, FRCPC, FRSC, FCAHS                   
Professor and Chair, Department of Anesthesiology & Pain Medicine