2015 Dr. Gerald Edelist Award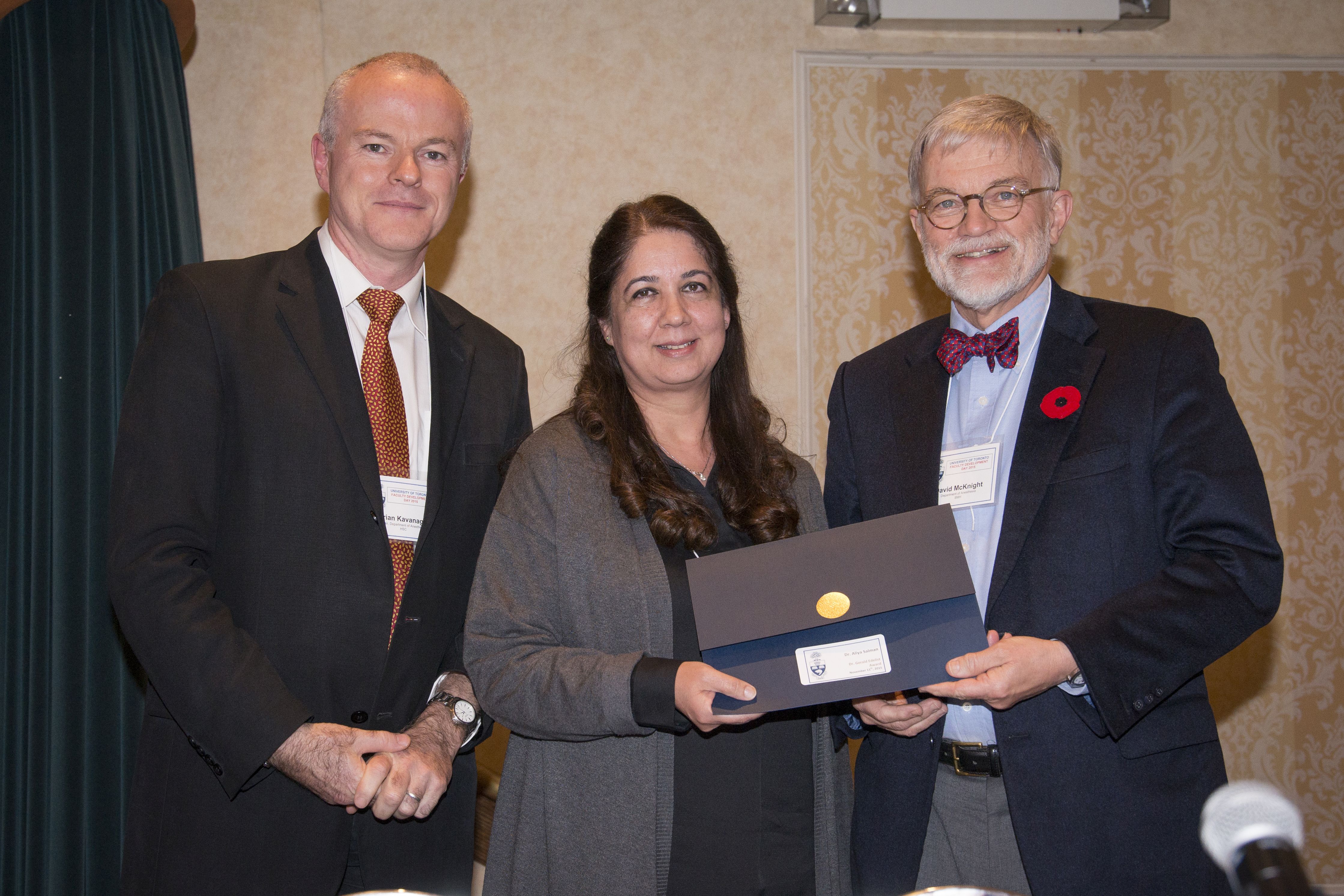 Aliya Salman - Dr. Gerals Edelist Teaching Award 2015 Dr. Gerald Edelist served as chair of the Department of Anesthesia from 1988 – 1993. An award in his name was established in 1996 to recognize excellence in the clinical instruction of residents in anesthesia. Nominated by faculty members and residents, the recipient of the Dr. Gerald Edelist Award demonstrates a commitment to clinical teaching, lectures and seminars over several years and contributes to innovations in the learning environment. The department would like to acknowledge the outstanding teaching efforts of Dr. Aliya Salman with the 2015 Dr. Gerald Edelist Award.
Dr. Salman's medical training in Pakistan and at the University of Toronto eventually brought her to Mount Sinai Hospital in 2006. Since then, she has been involved in curriculum development for anesthesia assistants and the development of FRCP exam items. Her dedication and devotion to her students is apparent in the glowing reviews she receives from her students and she must be commended for the time and effort she has spent preparing students for the Oral Royal College Exam. She has also served as the resident coordinator at Mount Sinai Hospital for over five years.
In addition to exceptional formal instructional skills, Dr. Salman has the ability to connect with students outside of the classroom. Her students praise her ability to offer constructive individualized feedback and her kind, approachable manner that enabled them to receive guidance in any number of areas. Dr. Salman has not hesitated to provide impromptu lessons during spontaneous teachable moments and she is continually seeking to improve educational experiences for both her students as learners and herself as a teacher.
Described by Dr. Eric You-Ten as "an exceptional physician and anesthesiologist who enjoys teaching and ensures that the trainees become safe competent anesthesiologists and excellent physicians," Dr. Aliya Salman has proven herself to be an invaluable resource for both the University of Toronto's Department of Anesthesia and Mount Sinai Hospital. It is therefore with great pleasure that the department has presented the 2015 Dr. Geral Edelist Award to Dr. Aliya Salman in recognition of her exemplary devotion to teaching in the residency program.