Toronto Summer Institute in Pain
|
All day
Details
The Toronto Summer Institute in Pain is a 5-day high intensity pain training program.  It provides opportunities for trainees to interface with researchers, clinicians, educators and patients through a series of lectures, panel discussions, small group work and interactive workshops.
The program is organized around a different central theme each year and is attended by 30 national and international graduate students, post doctoral fellows and clinical trainees. This year's theme is "The Brain Behing The Pain: From Neural Coding to the Patient Experience"
The institute aims to:
Foster research excellence and interprofessional collaboration
Provide a stimulating environment for research training
Develop a base of high-quality researchers, who will know how to translate their research outcomes into improved pain relief worldwid
Call for applications is now open! Click HERE for more information.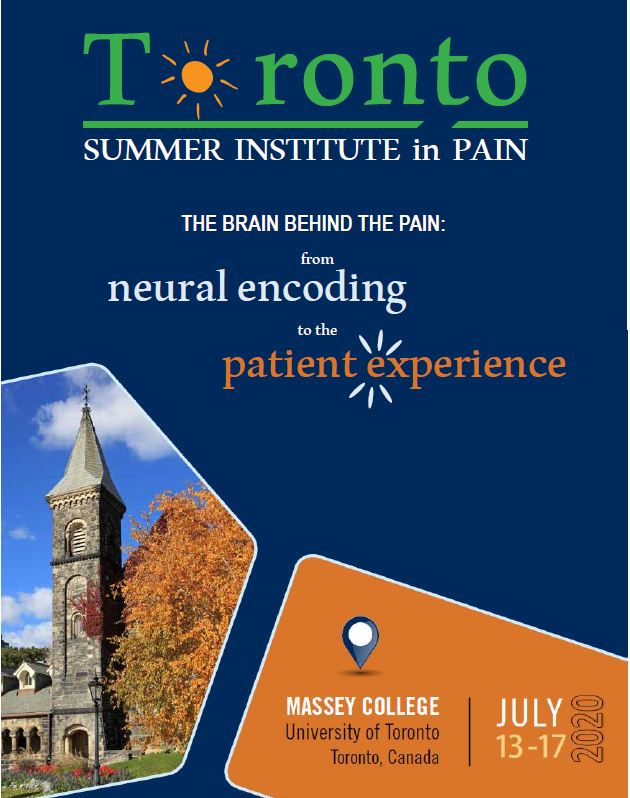 2020-07-13 04:00:00 2020-07-17 04:00:00 UTC Toronto Summer Institute in Pain The Toronto Summer Institute in Pain is a 5-day high intensity pain training program.  It provides opportunities for trainees to interface with researchers, clinicians, educators and patients through a series of lectures, panel discussions, small group work and interactive workshops. The program is organized around a different central theme each year and is attended by 30 national and international graduate students, post doctoral fellows and clinical trainees. This year's theme is "The Brain Behing The Pain: From Neural Coding to the Patient Experience" The institute aims to: Foster research excellence and interprofessional collaboration Provide a stimulating environment for research training Develop a base of high-quality researchers, who will know how to translate their research outcomes into improved pain relief worldwid Call for applications is now open! Click HERE for more information. 4 Devonshire Pl - Massey College discovery.commons@utoronto.ca